Wineglass Bay Lookout is the postcard image of Tasmania. Almost every tourist will have Wineglass Bay on their itinerary, and for good reason. Wineglass Bay lookout is located within Freycinet National Park on the East Coast of Tasmania, nestled within a granite mountain range known as the Hazards and surrounded by long stretches of white sand beaches. Wineglass bay trail leads to a lookout that offers panoramic views over Wineglass Bay and the surrounding national park. This blog is a guide to hiking to Wineglass Bay lookout.
How to get to Wineglass Bay Lookout
Wineglass Bay Lookout is a 2.5-hour (195km) drive from Hobart and a 2-hour (175km) drive from Launceston, so I suggest an early start if this is where you are based. If you have the option, stay in Freycinet National Park for a night or two as there is so much to explore in the Wine Glass Bay area.
Below is a map that you can follow to the Wineglass Bay lookout track.
Hiking to Wineglass Bay Lookout
From the car park, Wineglass bay lookout is a moderate 45 minute (1.5km) hike, one way. There is signage everywhere so it is hard to get lost, and you can always follow the crowd as Wineglass Bay Lookout trail is a busy one. The trail is mostly exposed so I suggest wearing sunscreen and packing lots of water. The trail is a consistent incline and has some stairs but is suitable for most fitness types and children. The view from the top of Wine Glass Bay lookout is worth the hike. The round trip length of this trail is 3kms and takes a total of 1.5hours.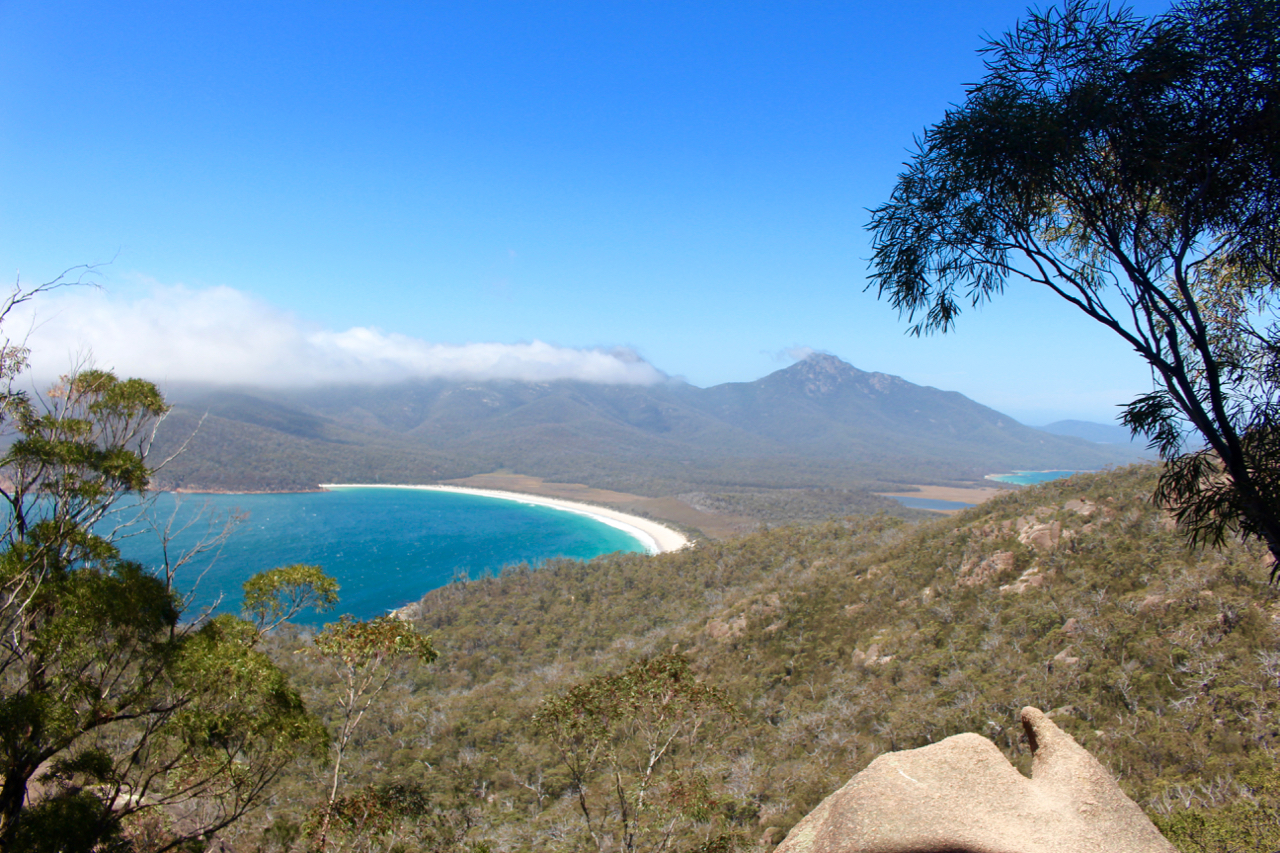 Things to pack for the Wineglass Bay Lookout Trail
Sunscreen
Drinking water
Swimmers
A towel
Camera
Go Pro
Snacks
Hiking shoes
Other Hiking Trails at Wineglass Bay
The majority of people do the Wineglass Bay Lookout Track then leave Freycinet National park. For the adventurers and avid hikers, there is so much more to explore. From Wine Glass Bay Lookout you can continue down to Wineglass Beach, across the Isthmus Track and around to Hazards Beach Track. There is also a trail that leads you across Mount Graham and Mount Freycinet and back to Hazards Beach, which would be an overnight + hike. See the map below.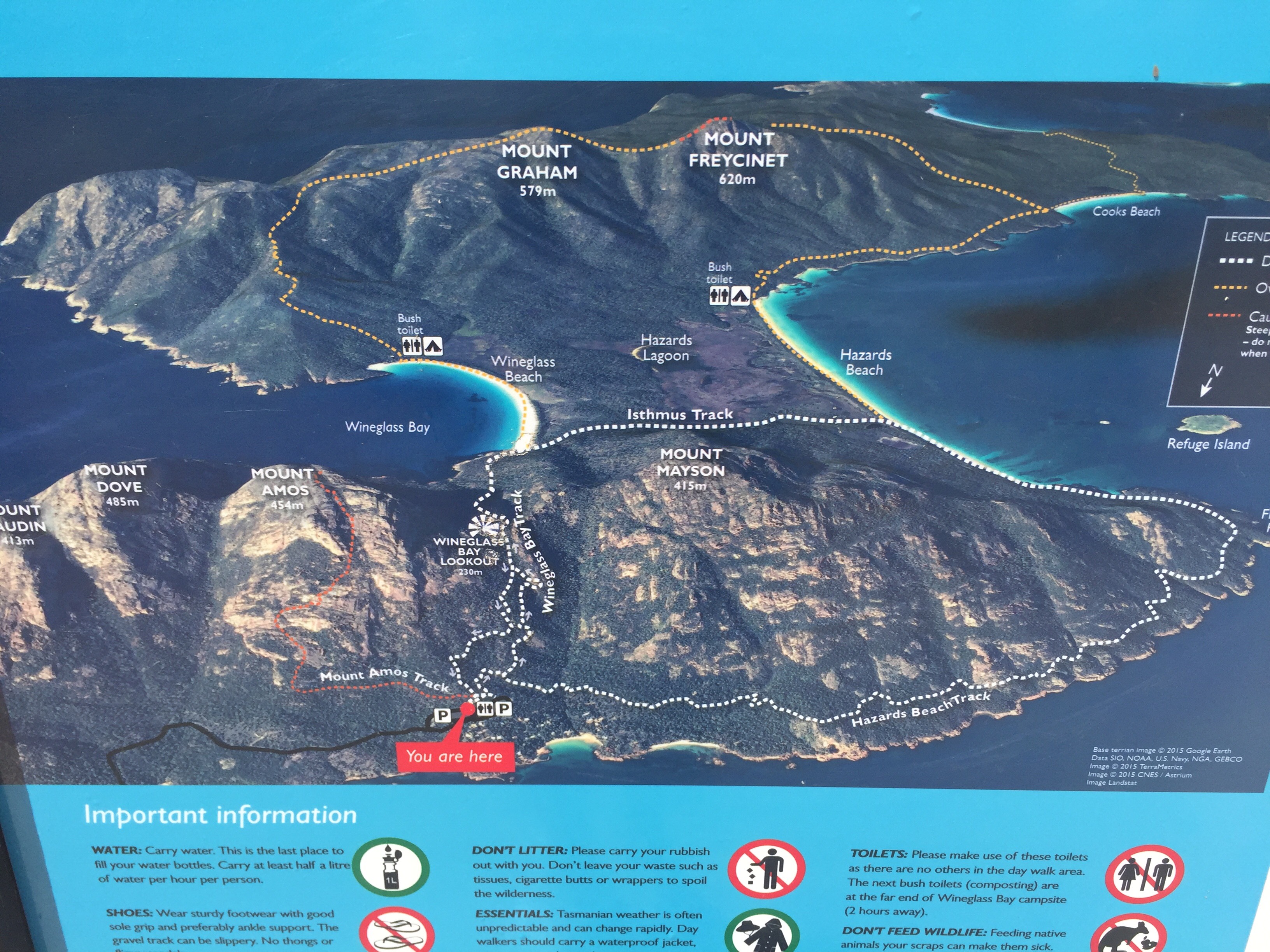 Wineglass Bay Lookout and Beach
From Wineglass Bay Lookout, the trail to Wineglass Beach is an extra 45 minutes (1.5kms) one way. The trail is made up of a series of stairs and the decline is steep, which means so is the incline. I would class this trail as strenuous and suitable for people with a level of fitness. Despite the challenge of the hike, the inviting turquoise waters, white sand beach and red rock formations are worth it. Wineglass Bay Beach is rated as one of the top 10 beaches in the world, and due to the difficulty in accessing Wine Glass Bay beach, it is really quiet. The total length of the Wineglass Bay lookout and beach trail is 6kms and is expected to take 2.5 hours, however, you can easily add an extra hour on for the time you will spend at the beach.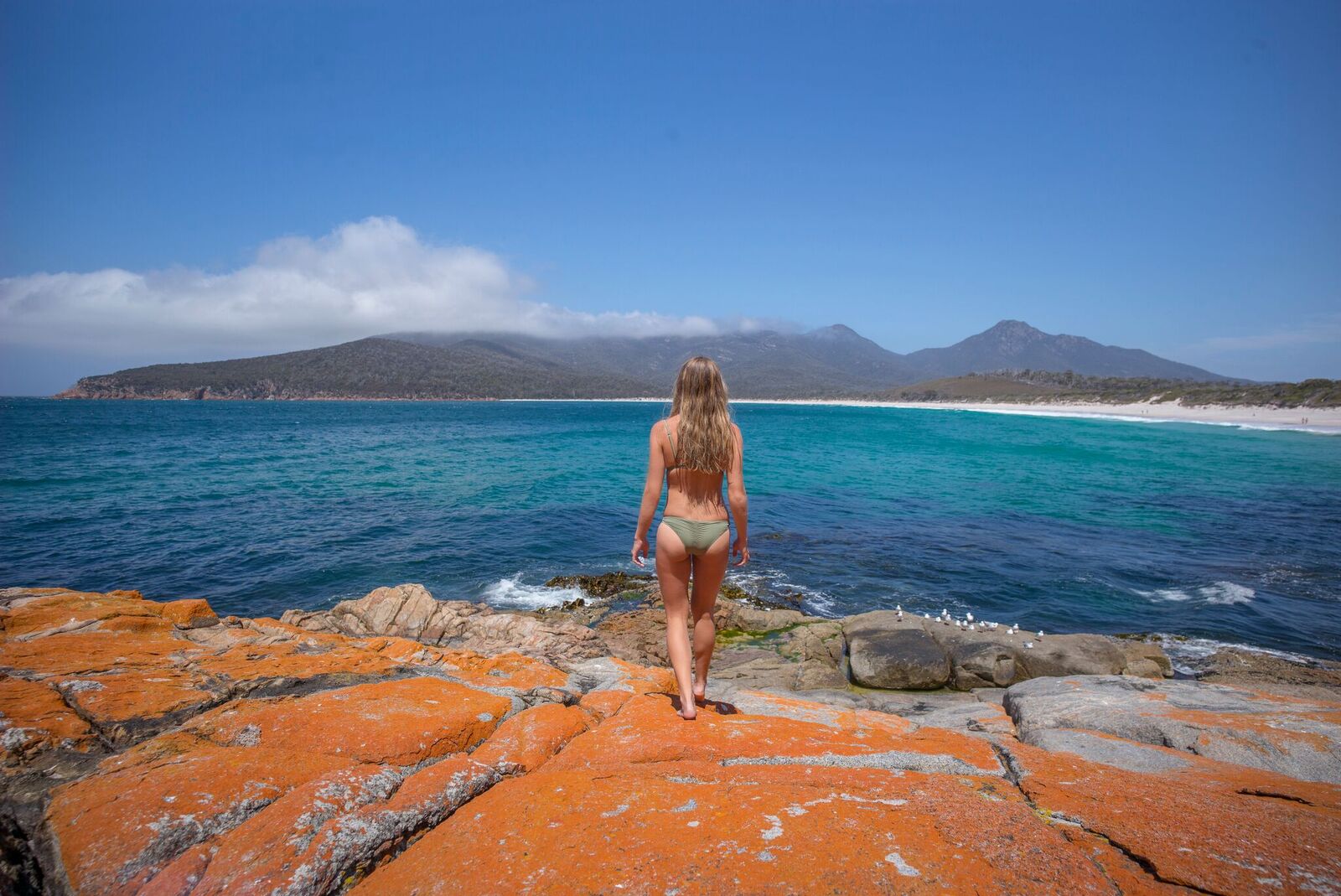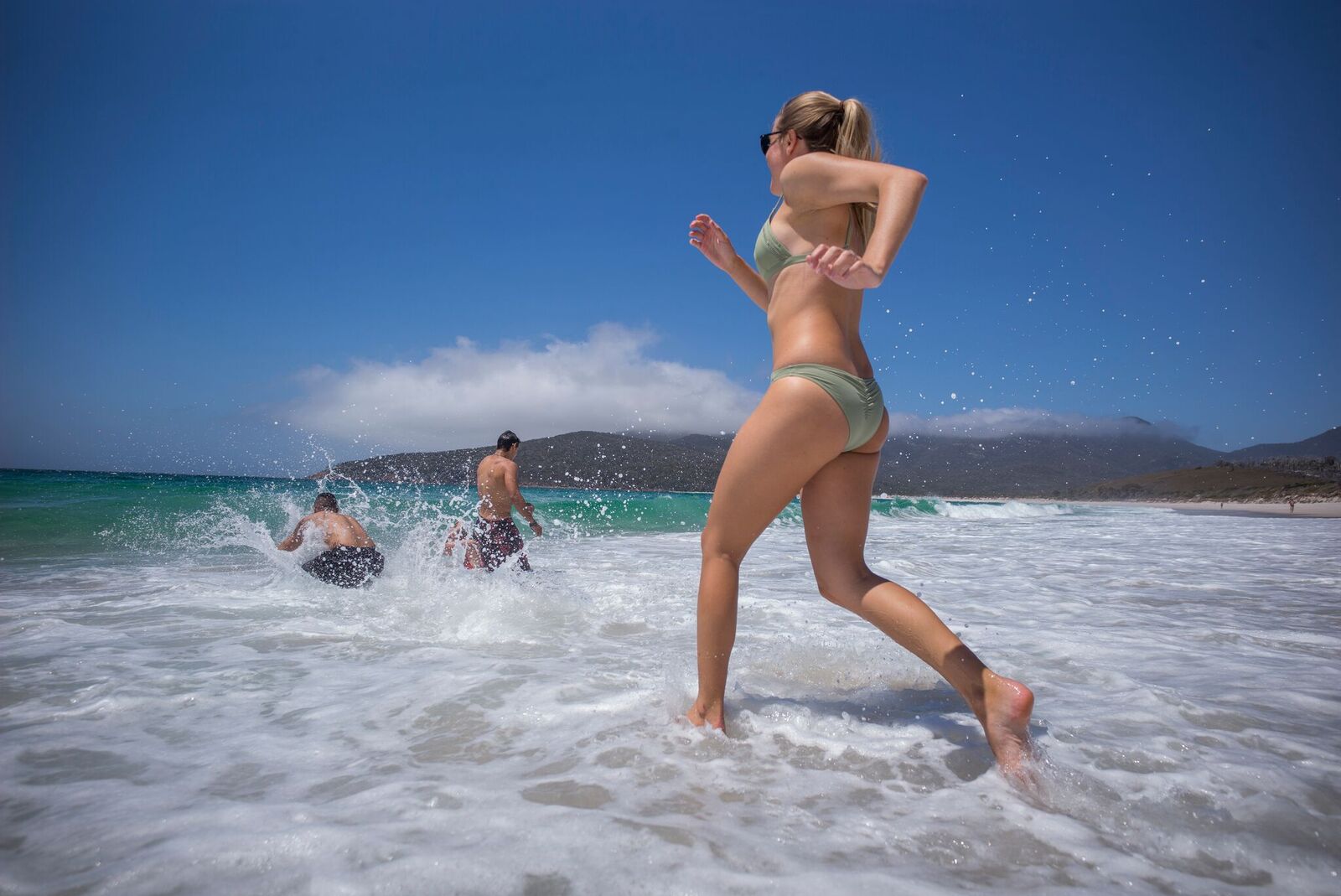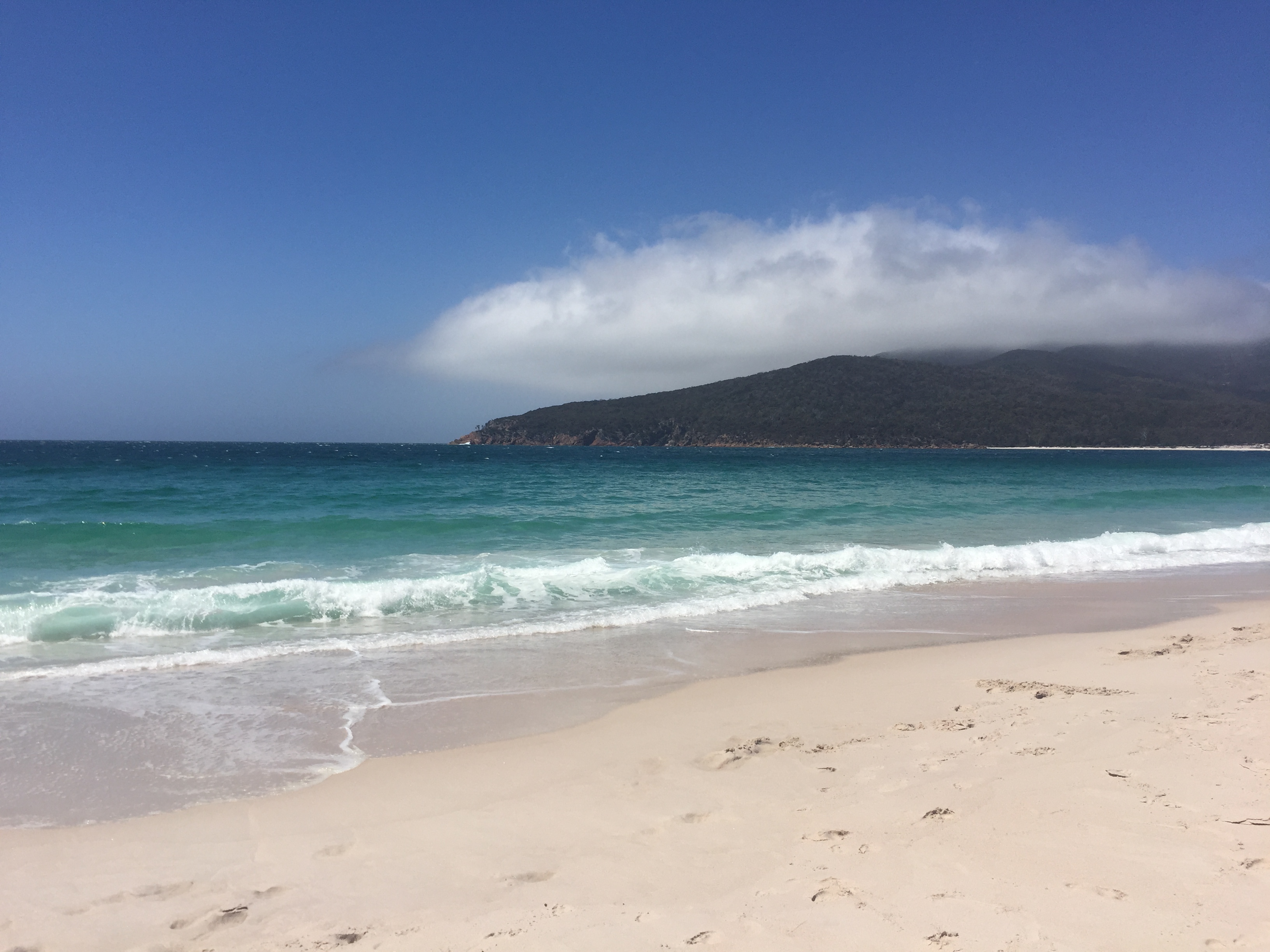 Wineglass Bay – Hazards Beach Circuit
This trail leads from Wineglass Bay Beach across the Isthmus to Hazards Beach. The return to the car park from hazard Beach is long and only suited to experienced hikers. The trail is 11kms return and takes around 5 hours. Along the way, you will experience outstanding views, pristine beaches, colourful coastal heathland, lagoons, birdlife and secluded coves.
Peninsula Circuit
This is the overnight trail which leads you from Wineglass Bay Beach, across Mount Graham and Mount Freycinet and back to Hazards Beach and requires you to pack camping supplies. This is one of Tasmania's great bushwalks and is ideally done over three days, giving you time to climb Mount Freycinet and explore the beaches. It is suitable for very fit, experienced hikers and campers.
Mt Amos
Mt Amos has a different starting point, as you can see from the map. The trail leads to the top of Mt Amos offering panoramic views of Oyster Bay and Freycinet Peninsular. This trail takes 3 hours return and is extremely steep and suited to physically fit and experienced hikers. This is a less popular trail and great if you are looking to escape the crowds.
Take a Tour to Wineglass Bay
From Hobart: This tour leaves from Hobart and includes Wine Glass Bay lookout, Honey Moon Bay, Sleepy Bay and Cape Tourville Lighthouse. Book here…
Looking for a tour from Launceston to Hobart via Wineglass Bay? This one is for you, book here.
Other Tips for visiting Wineglass Bay Lookout
Leave early to get a head start on the day and beat the crowds.
Put in the effort to hike to Wineglass Bay Beach.
Stay in Freycinet National Park for a night or two (minimum), there is so much to explore in the Wineglass Bay region. See my guide on things to do in Freycinet National Park.
Keep your eyes peeled for wildlife in the area.
If you are looking for a less crowded hike, opt for Mt Amos.
Book Accommodation in Freycinet National Park
You can search for accommodation options in Freycinet National Park here.
While you are in the Wineglass Bay lookout area make sure you check out Friendly Beaches, Honeymoon and Sleepy bay. See my guide to others things to do in Freycinet National Park.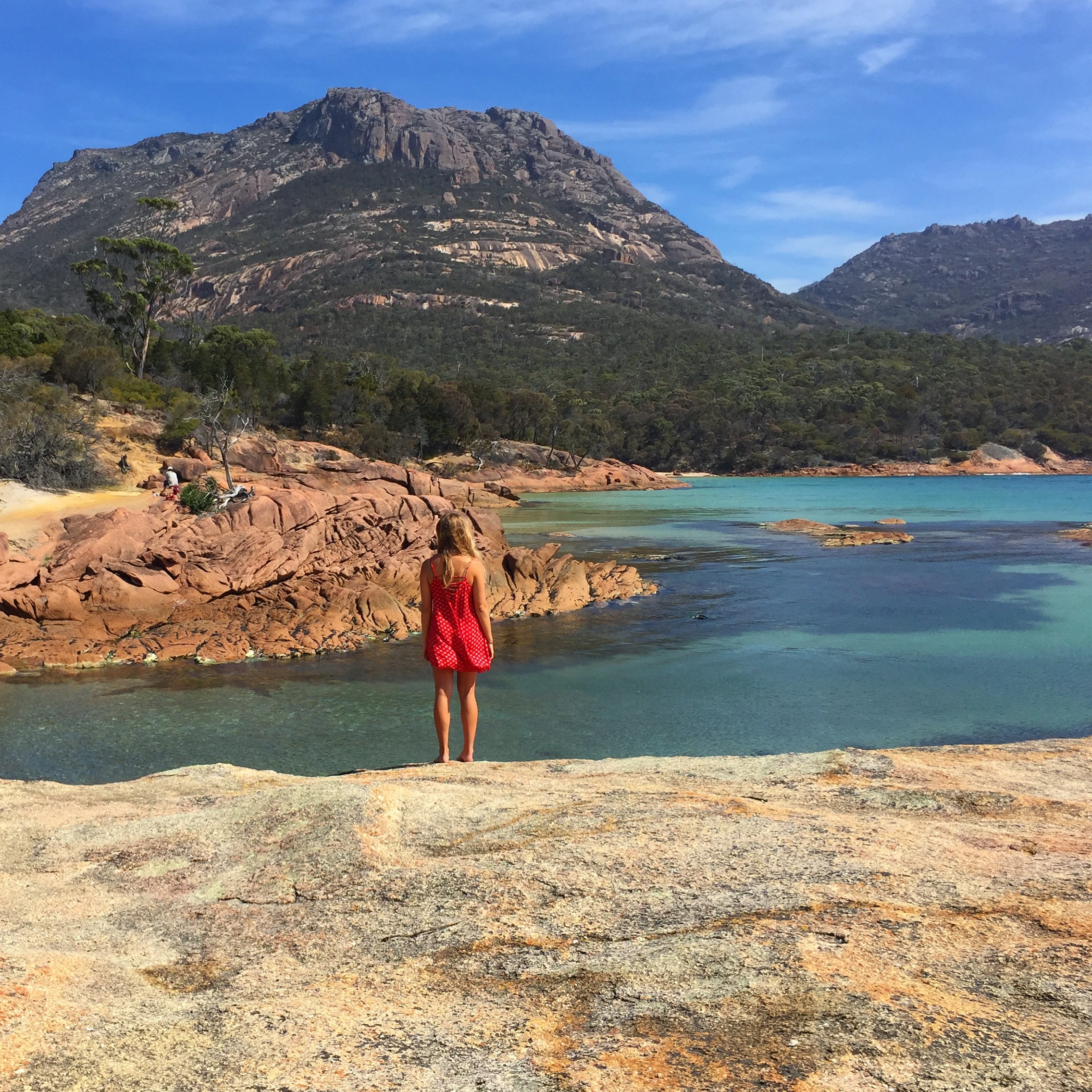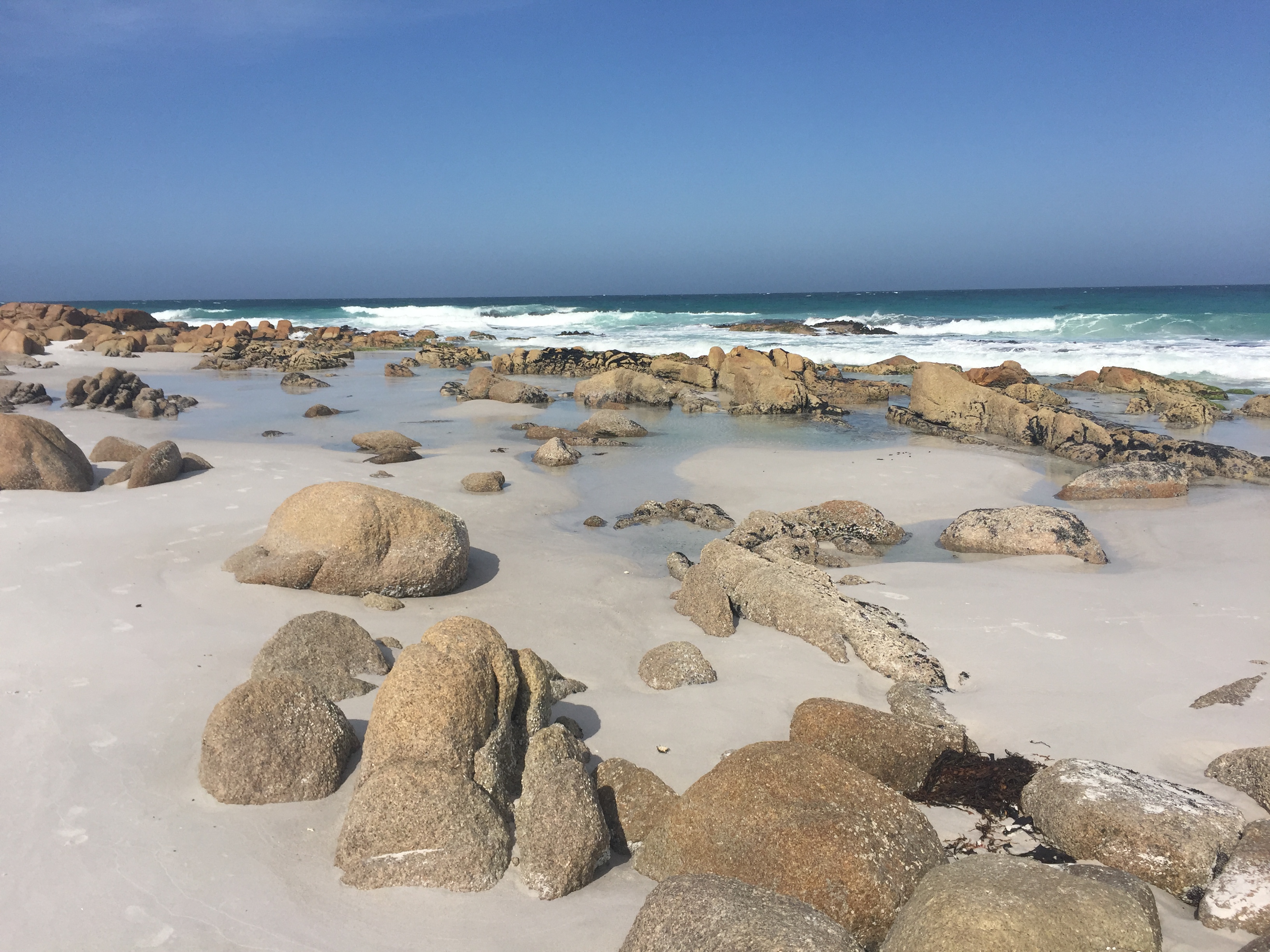 Are you staying in Hobart?
Mount Field National Park is a short drive from Hobart and is home to stunning waterfalls, rainforest and wildlife. If you have time, check it out!