Whitewater rafting on the Nymboida River is a must do adventure for any thrill seeker visiting Coffs Harbour. The Nymboida River is a world-class whitewater-rafting destination, guaranteed to provide you with a fun day of white water rafting adventures. This blog will tell you all about my day whitewater rafting on the Nymboida River and will give you advice on planning your trip.
Whitewater rafting on the Nymboida River – Our day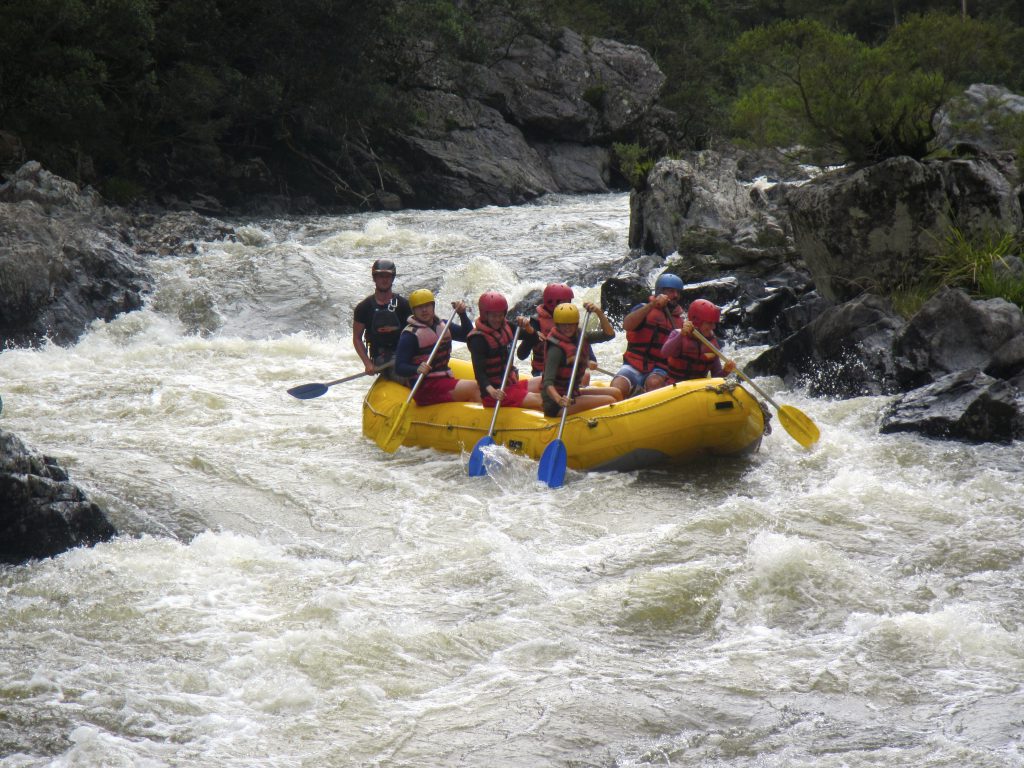 We met at 6-45 at the Coffs Harbour Jetty, where our guides greeted us. We hit the road almost immediately as everyone was wanting to get on the Nymboida river as soon as possible. The bus ride to Platypus Flats, our takeoff area, took 2 hours.
We arrived at Platypus flats by 9 am, where we enjoyed breakfast and coffee by the river. Platypus Flats is a day use and camping area with BBQ areas, shaded tables, fire rings and bathrooms. If you want to experience Australian National Parks at their best, I recommend coming out to Nymboida National Park and camping at Platypus Flats. Even if you can't afford the white water rafting tour, it is still well worth exploring Nymoida, and chances are you will have the area to yourself.
After breakfast by the Nymboida River, we raced straight to our inflatable rafts where I was given the chance to meet the other 5 people in my boat. Then off we went….
The rapids of the Nymboida River range from class 1 to class 5, running through basalt sheer-sided gorges, over waterfalls, through raging rapids and around rock obstacles. The river gives paddlers a challenge, many adrenaline hits, and a few scares.
We approached our first rapid straight away getting us pumped up for the 9km of rafting we had ahead of us. Now if you plan on staying dry…. Don't count on it. We were drenched within the first few rapids, but trust me, you'll be having too much fun to even notice.
As we floated through the gorges of the Nymboida River we were given a chance to admire the lavish Australian flora and fauna. Along the river we were surrounded by dense Australian vegetation and untouched temperate rainforest, offering tourists a unique Australian experience, and a high chance of seeing Australian wildlife.
But we couldn't admire the wildlife for too long as rapids were quickly approaching. Our guide, Mike, was extremely friendly, experienced and knowledgeable about everything we needed to know. I felt extremely safe and confident the entire trip…. Even when I fell overboard.
Throughout the day we were given a few chances to swim in the Nymboida River, either floating down rapids or in one of the deep still pools. We were also able to go rock jumping.
As our whitewater rafting on the Nymboida River trip came to an end… We pulled up on the river bank to a BBQ lunch already prepared for us! Just what you feel like after 4 hours of paddling.
Overall I had a wonderful day whitewater rafting on the Nymboida River… It got my heart racing, adrenaline pumping and smile glowing. PERFECT DAY!
If one day on the river isn't enough for you, you can take 2-day tours and camp overnight on the Nymboida River.
Booking a White Water rafting tour from Coffs Harbour
There are several companies offering whitewater rafting trips on rivers between Coffs Harbour and Byron Bay with pickup from Coffs Harbour. The Nymboida River is the closest to Coffs Harbour and is one of the best whitewater rafting destinations in the world. I took my Coffs Harbour white water rafting tour with Liquid Assets (Now Exodus Adventures) and had a perfect day.
White Water Rafting in Coffs Harbour – Prices
The cost of a one day tour starts at around $185 and a two-day tour starts at $380. While whitewater rafting in Coffs Harbour isn't the cheapest activity, it certainly is one of the most unique and adventurous.
Packing for a trip to the Nymboida River
If you are heading whitewater rafting on the Nymboida river, I recommend packing:
A bikini and clothes to wear white rafting
Shoes that you can get wet
A towel or two
Warm clothes, to change into after white water rafting
Thongs / shoes to wear on the way home
Snacks, although plenty will be provided
A water bottle
Sunscreen – even in the cooler months, the sun is strong
A Go Pro
Now since you made it this far through the blog, I thought I'd share the story of how the whitewater rafting tour on the Nymboida River came about. I was working in a cafe in my hometown when one of the guides came in. We started chatting and he mentioned he was a whitewater rafting guide. He invited me along for a FREE tour – amazing. The point of the story, if your friendly great things happen.
Other things to do in Coffs Harbour
If you are in the Coffs Harbour region, make sure to check out Dorrigo National Park. Dorrigo National Park is home to ancient rainforests, towering waterfalls and abundant wildlife, making it one of Australias best national parks.
Pin – White water rafting on the Nymboida River
I can guarantee that a day whitewater rafting on the Nymboida River will not disappoint.