Bali's lands are filled with verdant rice fields which make for amazing scenery as you travel around the countryside. You will come across rice fields in Bali everywhere, but there are a few in particular that are extremely impressive. These are the best rice fields in Bali.

Tegallalang Rice Fields in Bali
Tegallalang Rice fields are without a doubt, the most popular Rice Fields in Bali.
The Tegallalang Rice Fields are found 20 minutes north of Ubud, offering visitors a scenic outlook that spreads down before you and away to the rice paddies on the slopes across the valley. You can get pictures from the viewpoint at the top or can walk into the rice terraces for a small fee. The further you walk in, the fewer crowds you will find.
As this rice field in Bali has become such a major tourist attraction, I recommend visiting as early as possible.
There are markets and cafes along the top of the terraces where you can shop if you wish.
All these photos are from in the rice terraces.
Getting to Tegallang Rice Fields in Bali
You can follow the map below to find these rice fields in Bali. The best base for visiting the Tegallalang Rice Terraces is Ubud.
Jatiluwih Rice Terraces
Even larger than Tegallalang Rice Terraces is Jatiluwih Rice fields, and much less crowded (YAY). The Jatiluwih rice terraces are located in the middle of Bali near Ganung Batukaru. The area is very rural with nothing but farming communities, making these rice fields much less popular, however equally as impressive as Tegallalang.
You can walk into the Jatiluwih Rice fields, choosing different length trails. From the main point of the rice fields, you will see a trail map, and I have attached a photo below. If you have your own bike I definitely recommend doing a day trip here from Ubud and visiting the Pura Ulun Dana Beratan Temple on the same day.
Getting to Jatiluwih Rice Terraces
The Jatiluwih Rice Terraces are located in the north of Bali. Follow the map below to find these rice fields in Bali.
In my opinion, these are the 2 best rice paddies in Bali.
Other Tips for visiting the rice fields in Bali
Pack lots of water, it can get hot walking around the rice fields.
Wear sunscreen and a hat as the rice fields are exposed.
The best time to explore the Bali rice fields is in the early morning.
Take only photos and leave only footprints.
Good walking shoes are recommended.
Want more on Bali?
Book a tour in Bali
Pin – Rice fields in Bali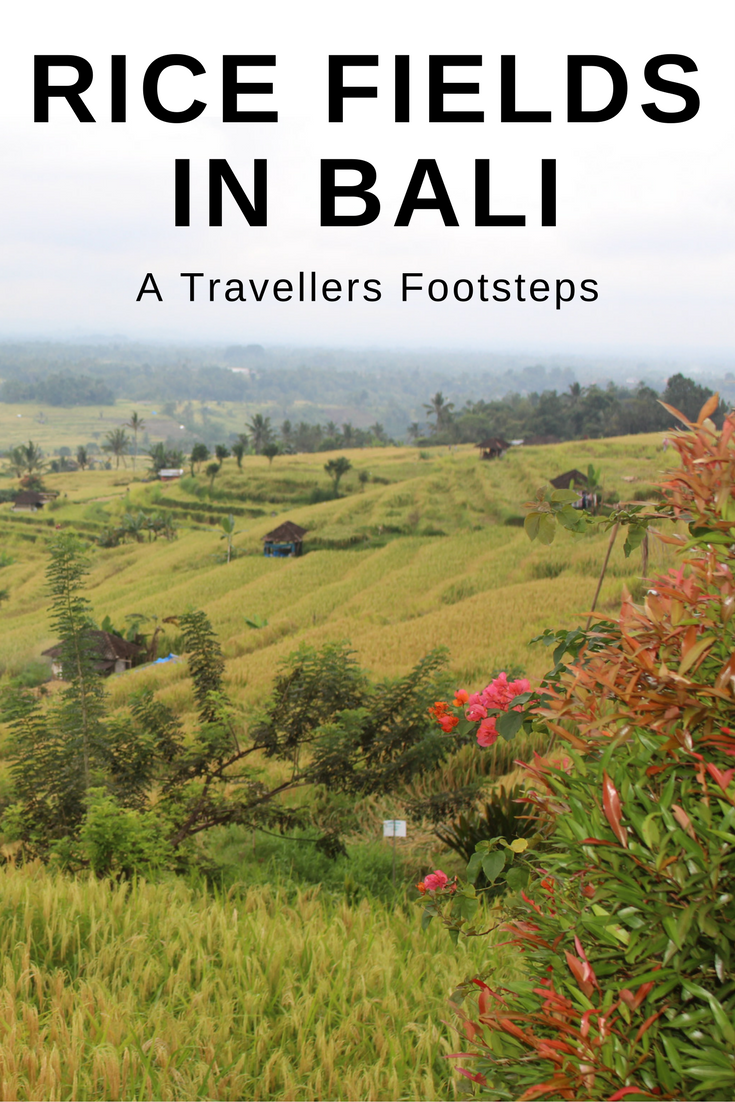 Disclosure: This post on rice fields in Bali contains affiliate links.