Hobart is where most travellers fly in and out of when visiting the Island state of Tasmania. While I wouldn't recommend spending all your time in Hobart, I would suggest a couple of nights in Hobart to explore the capital city. Hobart offers a mixture of heritage, scenery and culture with a range of different activities to do. These are some of the fun things to do in Hobart.
Explore Mount Wellington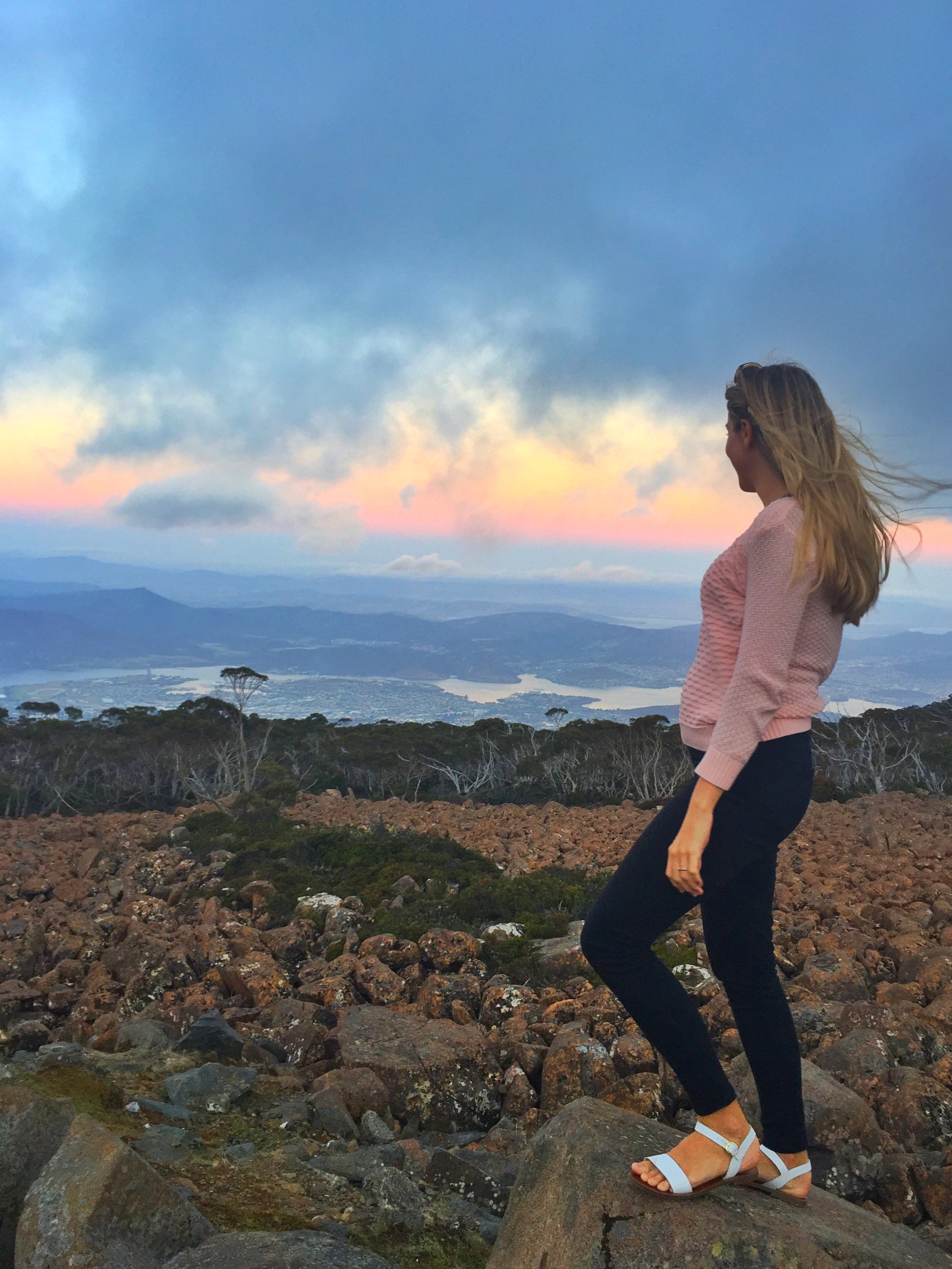 Hike, bike or drive up Mount Wellington for the best views of the Hobart region. Try visiting at sunrise or sunset for the best views.
Book a tour to Mount Wellington including MONA tickets here.
MONA
The Museum of old and new art is a popular attraction in Hobart for those with an appreciation for art. You will find art displays and a wine bar on site.
Battery Point
The streets of Battery Point are filled with adorable heritage style houses and gardens. You could easily spend a couple of hours walking the streets of Battery Point, admiring everything you see. If you would like a guided tour of Battery point you can book one here, although I don't think it is necessary.
Salamanca Markets
Every Sunday Salamanca is filled with vibrant outdoor markets that attract thousands of visitors. Salamanca Markets showcase fine art, crafts, jewellery, fashion and fresh food. If you happen to be in Hobart on a Sunday morning you won't want to miss the Salamanca Markets.
Fish and chips on the pier
At sunset, the crowds flock down to the pier to enjoy the fresh catch of the day. My favourite was the grilled Salmon from Flippers!
Hobart City Kayaking Tour
Why not explore Hobart from a different angle? Kayaking tours are a popular way to explore the city, you can book a Kayaking tour here.
Eat Street Franko
A new food festival has come to Hobart and you won't want to miss it. Take a blanket down and relax on the grass while watching a live band play and enjoying some local Tasmanian food and craft beer.
Royal Botanical Gardens
Lose yourself in 14 hectares of lush landscape. Entry is free.
Mt Nelson Signal Station
From the signal station lookout at Mount Nelson, you will find unmatched views of the Derwent River and Bruny Island.
St Davids Park
I stumbled across St Davids Park after exploring Battery Point and thought it would be the ideal place to kick back and relax for a few hours if that's what you need.
Day Trips from Hobart
Adventure awaits outside Hobart. Within an hour of driving, you will find some of the worlds most pristine National Parks and rugged coastlines waiting to be explored. These are just some of the best day trips from Hobart.
Freycinet National Park and Wine Glass Bay
Wineglass Bay is the postcard image of Tasmania and likely already on your itinerary. If you are heading to Wineglass Bay check out my guide to hiking in Wineglass Bay. If you have a full day to spend in Freycinet National Park, these are all the things I suggest doing on a day trip.
Looking for a tour of Freycinet National Park and Wineglass Bay?
This tour includes Wine Glass Bay, Honeymoon Bay, Cape Tourville lighthouse and friendly beaches, departing from Hobart. Book here.
Mount Field National Park
Mount Field National Park is a nature hub, filled with breathtaking waterfalls, tall growth trees, running streams, lakes and wild animals. Book a tour to Russell Falls in Mount Field National Park here.
You might also like my post on Mount Field National Park and Russell Falls.
Bruny Island
Expect world-class beaches, national parks, rugged coastline and native wildlife matched with the finest local produce from the ocean and the land. Find out more about Bruny Island or go ahead and Book your day trip to here.
Pin – Fun things to do in Hobart
Book a tour in Hobart
Book Accommodation in Hobart
Disclosure: This post on fun things to do in Hobart contains affiliate links.