This post may contain affiliate links, which means at no extra cost to you I may make a small commission on products and services purchased through this blog. Thank you for supporting A Travellers Footsteps.
Road tripping and camping around BC Canada was one of my most memorable experiences. British Colombia is an incredible destination and one that feeds my love for outdoor activities. If you haven't yet, put "Buy a minivan and explore BC" on your bucket list.
Free Camping in BC – Canada
As the winter of 2014 came to an end I began my road trip, equipped with a mattress in the back, cooking utensils, food and firewood, we hit the road. We lived out of our van for two months and despite the lack of showers, cooking every meal on a campfire and getting lost every day, it was the best 2 months of my life.
We used the Camp Free in BC website to find free campsites. As we were travelling on a budget, free campsites were ideal.
This blog will review some of the free campsites we stayed at in BC.
James Lake
I called James Lake home for over a week, it was my favourite free camping site in BC. James Lake is a small camping area made up of 5 sites equipped with fire rings and picnic tables. James Lake is a perfect campsite for just about anything; relaxing, fishing, boating, 4WDing, biking or shooting. Another bonus is that the site is close to Kelowna, a destination offering many fun activities.
From Kelowna to James Lake, you will follow Hwy 33 towards Big White to Goudie Road. Follow Goudie Road to James Lake Road, once on James Lake Road continue straight until you arrive at James Lake. James Lake Road is unpaved, however, you can still easily access the lake without a 4WD.
I highly recommend this site and think it's well suited for long term camping.


Seton Lake Campground
The Seton Lake campground is one of the biggest and best free campsites in BC. The camping area is made up of 45 campsites with fire rings and picnic tables and is surrounded by hiking trails, salmon spawning channel and places to swim – you will have plenty to do. The campsite also has firewood, drinking water and a pay phone- bonus.
Seton Lake Campground is located outside Lillooet on Highway 99, towards Whistler. The road to access Seton Lake Campground is paved.
Dewdney
Dewdney campground is a small campsite located on the riverbank of Similkameen River, making it a great site for canoeing and kayaking. There are around 7 sites, all equipped with a picnic table and fire rings, and you can find an outhouse (drop toilet) across the road.
This was a great campsite that would be suitable for long-term camping, the only downfall is the highway located across the river, which can get noisy.
To get to Dewdney Campground, take Old Hedley Road from Princeton. You will find the campground 6km along, the road is paved.

Silver hope Creek
There are a number of separate areas to camp at along Silver Hope Creek. The sites are secluded and private which is great, but there are no amenities other than a fire pit. This is a great place to spend a night or two but I wouldn't recommend it for long-term camping.
Sites are unmarked so keep your eye out for any areas to pull off along Silver Skagit Road when heading towards Silver Lake Provincial Park. Roads are unpaved but a 4WD isn't necessary.
Ripley Lake
A small campground with three sites.  Overall I wouldn't recommend this site, it is hard to find, roads are bad and there are no amenities.
Closest towns = Oliver and Cawston.
Dirt road in, 4WD recommended but not essential.
I wouldn't recommend this site for long-term camping.
Mossland Campground Revelstoke
This isn't so much a campsite, just an area to set up for the night. Located just outside of Revelstoke, it makes for a great pit stop, but I wouldn't recommend this site for long-term camping.
If you're looking to camp in style in Alberta, click here. 
Pin It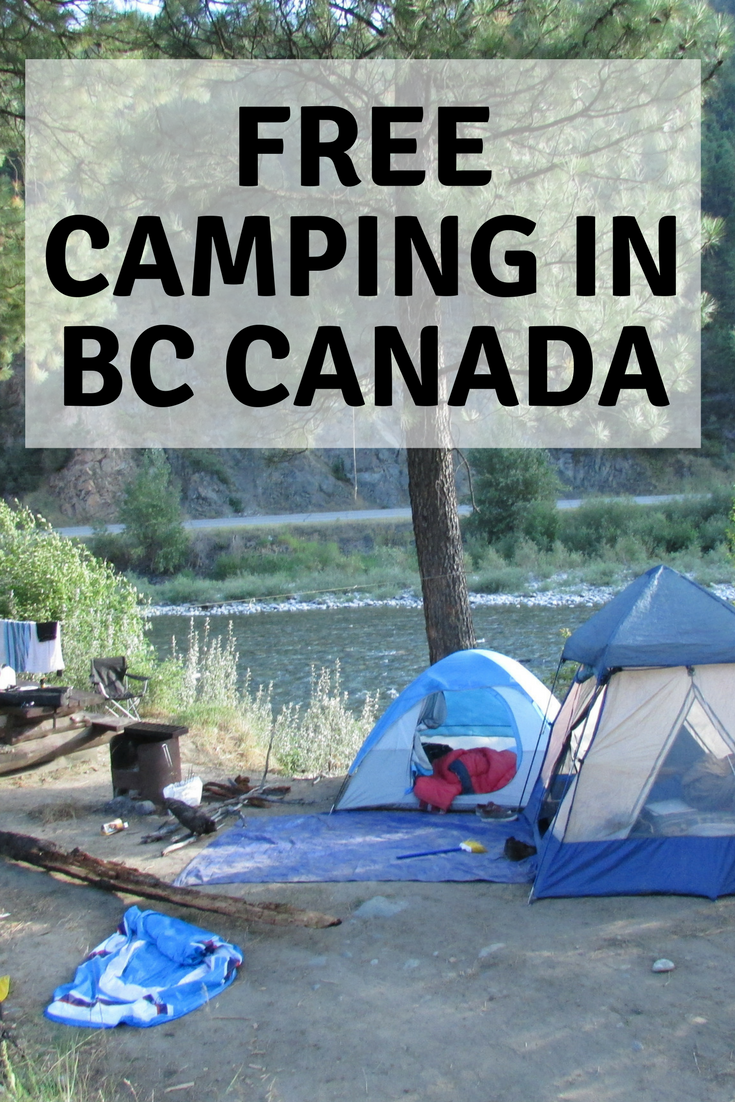 See more from Canada here.