Road tripping and camping around BC Canada was one of my most memorable experiences. British Colombia is an incredible destination and one that feeds my love for outdoor activities. What makes British Colombia such a great destination for road tripping and camping is the fact that there are so many free campsites, hiking trails and outdoor endeavours.
If you haven't yet, put "Buy a minivan and explore BC" on your bucket list. This article will tell you everything you need to know about free camping in BC.
Finding Free Camping in BC – Canada
There are hundreds of free campgrounds all over British Columbia. Most Recreational Sites are suitable for RV, van and tent camping. A minority of the free campsites are only suitable for tents due to their small size and/or difficult access.
We used the Camp Free in BC website to find free campsites and found it very helpful. As we were travelling on a budget, free campsites were ideal and there is no shortage in BC Canada.
Another great website to use is the Recreational Sites and Trails BC website.
Most recreational sites are located far from the main roads so a GPS is essential. Some of the campsites can be difficult to find so do your research before setting off.
Accessibility of free campsites in BC
Many roads leading to recreation sites are unpaved forestry roads (gravel roads). Some of the roads to more popular destinations receive some surface maintenance, such as grading and brushing. Other roads may be quite rough and not suitable for all vehicles types. On most roads, you can expect logging trucks, rough surfaces and potholes.
Available amenities
The free campsites in BC generally offer the following amenities:
free spots for tenting or parking a vehicle (no hookups)
fire rings
gravel /pit toilets
a picnic table
Most free campsites and recreation sites DO NOT HAVE
hook up for RV's
potable or running water
paved road to access the site
Free Camping in BC – Campsite Review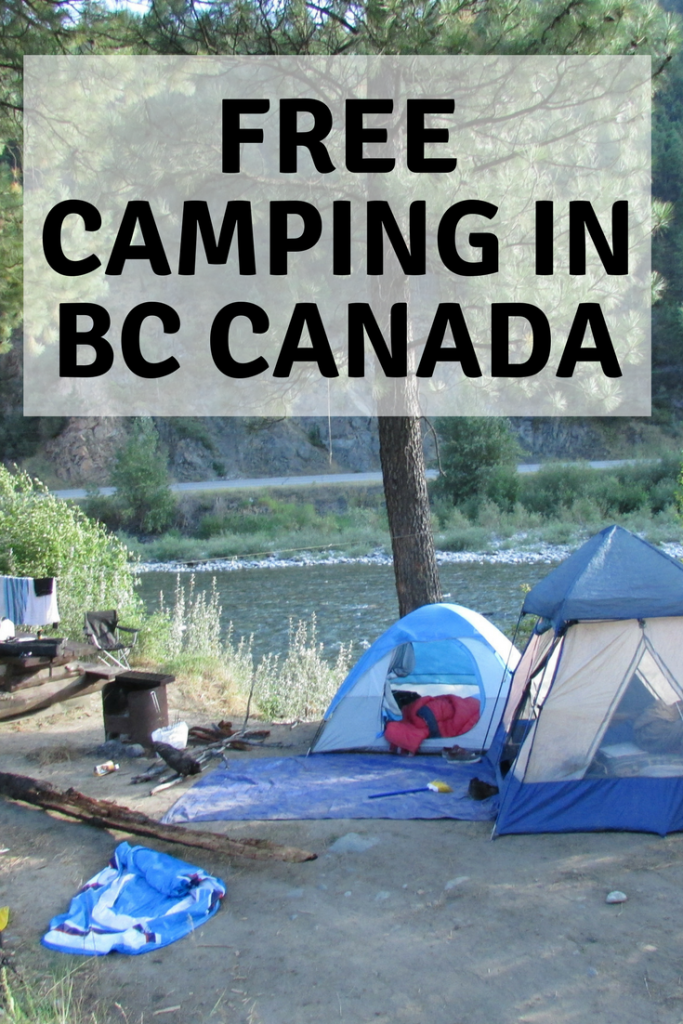 This blog will review some of the free campsites we stayed at in BC.
James Lake
I called James Lake home for over a week, it was my favourite free camping site in BC. James Lake is a small camping area made up of 5 sites equipped with fire rings and picnic tables. James Lake is a perfect campsite for just about anything; relaxing, fishing, boating, 4WDing, biking or shooting. Another bonus is that the site is close to Kelowna, a destination offering many fun activities.
From Kelowna to James Lake, you will follow Hwy 33 towards Big White to Goudie Road. Follow Goudie Road to James Lake Road, once on James Lake Road continue straight until you arrive at James Lake. James Lake Road is unpaved, however, you can still easily access the lake without a 4WD.
I highly recommend this site and think it's well suited for long-term camping.


Seton Lake Campground
The Seton Lake campground is one of the biggest and best free campsites in BC. The camping area is made up of 45 campsites with fire rings and picnic tables and is surrounded by hiking trails, salmon spawning channel and places to swim – you will have plenty to do. The campsite also has firewood, drinking water and a pay phone- bonus.
Seton Lake Campground is located outside Lillooet on Highway 99, towards Whistler. The road to access Seton Lake Campground is paved.
Dewdney
Dewdney campground is a small campsite located on the riverbank of Similkameen River, making it a great site for canoeing and kayaking. There are around 7 sites, all equipped with a picnic table and fire rings, and you can find an outhouse (drop toilet) across the road.
This was a great campsite that would be suitable for long-term camping, the only downfall is the highway located across the river, which can get noisy.
To get to Dewdney Campground, take Old Hedley Road from Princeton. You will find the campground 6km along, the road is paved.

Silver hope Creek
There are a number of separate areas to camp at along Silver Hope Creek. The sites are secluded and private which is great, but there are no amenities other than a fire pit. This is a great place to spend a night or two but I wouldn't recommend it for long-term camping.
Sites are unmarked so keep your eye out for any areas to pull off along Silver Skagit Road when heading towards Silver Lake Provincial Park. Roads are unpaved but a 4WD isn't necessary.
Ripley Lake
A small campground with three sites. Overall I wouldn't recommend this site, it is hard to find, the roads are bad and there are no amenities.
Closest towns = Oliver and Cawston.
Dirt road in, 4WD recommended but not essential.
I wouldn't recommend this site for long-term camping.
Mossland Campground Revelstoke
This isn't so much a campsite, just an area to set up for the night. Located just outside of Revelstoke, it makes for a great pit stop, but I wouldn't recommend this site for long-term camping.
If you're looking to camp in style in Alberta, click here.
Packing list for free camping in BC
There are my camping essentials:
Tent
Blow up mattress and bedding
Camp chairs
Esky / Cooler
Water (lots), non-perishable food and ice
Torch / flashlight
Bear spray
GPS
Cooking utensils / Airtight containers / Dishwashing liquid
Camping Stove
Pocket Knife / Survival Knife
First Aid Kit
Rainproof Jacket
Firelighters and firewood
Insect Repellant
Sunscreen
An Axe
Toiletries
Thermals – it can get cold in BC
Cards / games / Books / Offline Entertainment
Campsite use etiquette in BC
Leave your campsite the way you found it.
Take all your rubbish home with you.
Camping is allowed for as many as 14 consecutive days unless otherwise posted.
No commercial or group use is allowed unless you have written permission.
Although most sites are free, some do charge a small users fee (max $ 10 – $ 15 per party per day).
Other tips for free camping in BC
Drive cautiously – Logging trucks use forest road. These trucks always have the right of way.
Always carry plenty of water and food as the campsites can be far from shops and convenience stores.
Be aware of wildlife in the area you are camping.
Campfires in BC
Most recreation sites in BC offer fire rings. Before you make a campfire, check if there is a fire ban restriction in the area. You have a legal obligation to ensure campfires do not lead to wildfires.
Pin – Free Camping In BC
See more from Canada here.
Overseas Travel Checklist