Airbnb is an online marketplace that enables people to rent their home or part of it to travellers. Hosts can list anything from a single room, apartment or entire house through the Airbnb website. It's free to create a listing, and hosts decide how much to charge. Travellers then go to the Airbnb website and search for properties that suit their needs.
I have used Airbnb many times now and have had a very positive experience, so I thought I would share the benefits of Airbnb with you, and a $50 Airbnb coupon for your first stay. If you sign up for Airbnb using this link a $50 discount will be applied to your first stay.
These are the benefits of using Airbnb and reasons why I love Airbnb.
You can refine the search to suit your specific needs
Travellers can search the Airbnb website by entering details such as where and when they would like to stay, and also have the ability to refine the search by:
Room type – entire place, private room or shared room
Price – $-$$$$$
Size – number of beds/bedrooms and bathrooms
Amenities – wifi, TV, kitchen, pool etc.
Property type – apartments, houses, bed & breakfasts, castle
Host language – English, Italian, Portuguese etc.
Keywords – if the traveller is looking for something specific, such as "oceanfront" or "pet-friendly"
If you are looking for a two bedroom unit with an ocean view and washing machine, all you have to do is enter that in and your options will pop up. This means you can save time searching for accommodation and spend more time researching the fun things. In my opinion, the ability to refine your search so specifically is one of the biggest benefits of using Airbnb.
Airbnb Rentals are often cheaper than hotel rooms
Your money will get you much further with an Airbnb rental in comparison to a hotel room. You are sure to have either more space, a kitchen or better amenities for a much cheaper price.
Plus, my $50 Airbnb discount makes it even more affordable.
Airbnb rentals almost always have more space
Rather than renting a single room in a hotel, you can rent an entire apartment, townhouse or house for the same price. This will make you feel more at home with your own bedroom, living area, kitchen and bathroom.
Most Airbnb rentals have a kitchen
Giving you the option to prepare meals and snacks, saving you $$. To me, having a kitchen is the biggest benefit of using Airbnb, I love preparing my own meals when I'm travelling. I find I eat a lot healthier when I have access to a kitchen.
Airbnb rentals can have better amenities than hotels or hostels
How does a private pool and spa sound? This can be a reality with Airbnb rentals.
Many travellers enjoy the different experience from standard hotels
Many hosts personalise the service by leaving notes, champagne and chocolates, making you feel comfortable and at home. In addition, Airbnb hosts provide guests with honest and local advice on things to do, places to eat etc rather than the touristy things to do. On occasions you may make friends with the host, leading to a local experience like no other.
More locations
Airbnbs are everywhere and anywhere – literally. Get away from the centre of town and stay in a neighbourhood or the countryside for an authentic experience.
Groups can stay together
If you are travelling with a group, don't get separate hotel rooms, rent a massive house so you can stay together. This can also be a cheaper option.
Check out the Airbnb I stayed at in Binna Burra in the Gold Coast hinterland.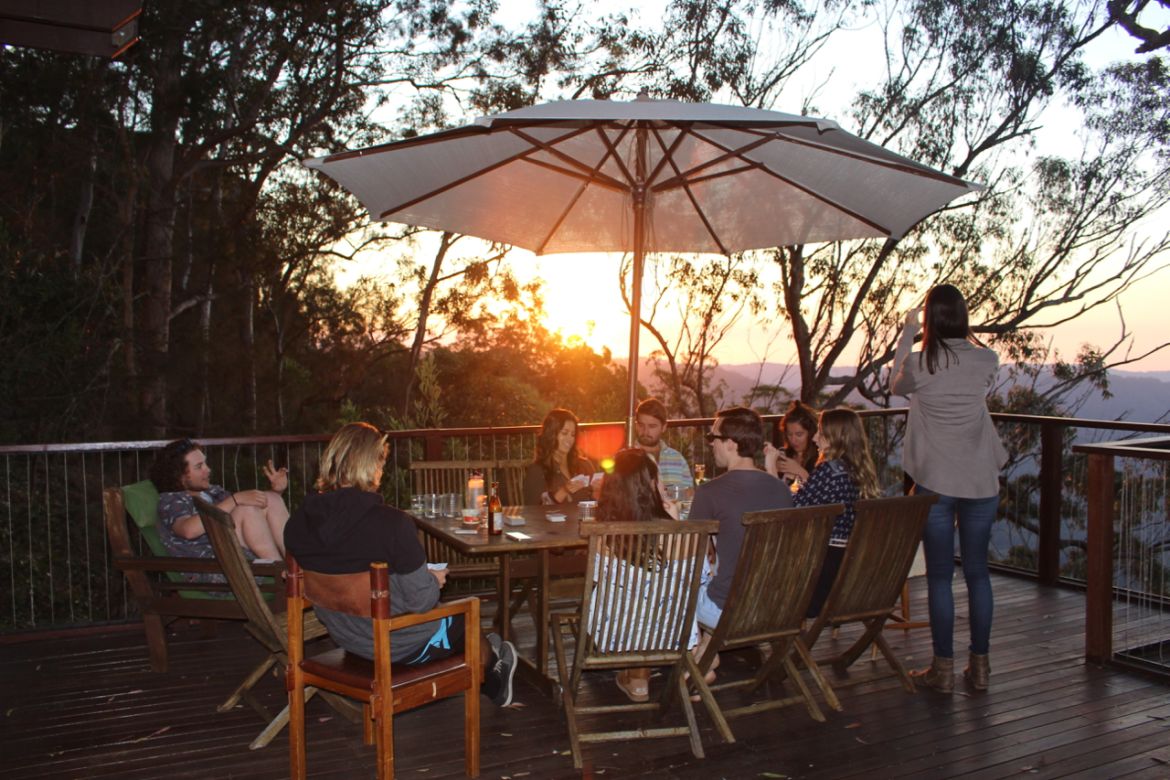 Free Wifi
Every Airbnb I have stayed in has had free wifi, certainly not the case with hotels. In saying this I am sure some Airbnb's don't so read the property description thoroughly when booking.
Airbnb rentals often have laundry facilities
A major bonus for long-term travellers and families.
Not only is Airbnb great for travellers, if you decide to become a host you can make extra cash to help you save for your next journey.
Use this link to sign up to Airbnb to receive a $50 discount on your first stay. The discount doesn't expire so sign up today and even if you don't go away for a year, you will still get the discount.
Pin – Benefits of airbnb
If you found the benefits of using Airbnb interesting, pin this post for later!
** This post on the benefits of Airbnb contains affiliate links.