This post may contain affiliate links, which means at no extra cost to you I may make a small commission on products and services purchased through this blog. Thank you for supporting A Travellers Footsteps.
The village of Whistler is well known amongst Australians for its mountains, winter sports and party scene, and I can guarantee that it will not disappoint. Whistler is located 1.5 hours out of Vancouver, in British Colombia. I absolutely recommend spending a few days in Whistler on your way out to the Rocky Mountains, or a season if you are moving to Canada. I found that most backpackers who came for a season are still there 3 years on. After all, it is all about the lifestyle in Whistler with priorities being "first chair, last call". Tough life.
Things do in Whistler
Explore Whistler Village: Renowned for the 2010 Winter Olympics. Get a photo of the ring, check out the Olympic sites and enjoy the views. I personally find Whistler Village extremely touristy and overrated; however some people can't get enough. It is definitely worth the trip as you may love or hate it.
Whistler Bungee: For those adrenaline seekers, try Whistler Bungee Jump. The location is stunning. If you stay at HI-Whistler you get $10 off.
Things to do in Whistler in Summer
Hikes: Two local favourites are The Whistler Train Wreck and Loggers Lake.
The Whistler Train Wreck: Located near function junction is the popular Train Wreck.  You will find the trail behind Olives Supermarket. The scenic trail is about 2km long winding along the waterfront and railway. If you are looking for free activities, this one will satisfy. 
Loggers Lake: The trail starts in Cheakamus near the HI Hostel. This hike you will take you through the forest, along a river and past a suspension bridge before leading to the lake. This is a 3-hour return trip hike. If you want you can continue up Crater Rim, which adds an additional three hours.
Other summer activities include Mountain biking and White Water Rafting
Things do in Whistler in Winter
Snowboard or Ski on Blackcomb Mountain, go Snowmobiling, Heli-Skiing, Cross-country skiing, Snowshoeing, Dog Sledding and Bobsledding at the Whistler Sliding Centre – I would love to try Bob Sledging!
Cheap eats in Whistler
The Warehouse in Whistler Village has $4.95 meals all day and night.
Recommended trip length
I recommend staying in Whistler for 4-5 days.
Getting to and around Whistler
Vancouver Airport is the closest International Airport. If flying in from overseas land in Vancouver and take the Greyhound bus to Whistler.
You can get to Whistler from any location in Canada via Greyhound.
Once in Whistler, you can use the local bus service, BC Transit. The cost of the bus is $2.50 and will get you to any location in Whistler that you need to go to. Check out the routes and schedule here…
A hire car will allow you to get around quicker but is unnecessary as the public transport is reliable and paying for parking isn't fun.
Where to stay in Whistler
Southside Lodge: Just across the road from the Creekside Gondola. I recommend this hostel during the winter as it is so easy to get to the chairlift.
HI Hostel: A nice new hostel located near Function Junction, outside of the village, however easy to get to with a bus stop located out the front of the hostel that departs every 30 minutes. HI-Whistler is within walking distance to the popular Train Wreck site and other hikes including Loggers Lake and Crater Rim. The HI hostel is in a better location for Summer activities.
Search for cheap accommodation options here.

Book a tour in Whistler
Pin It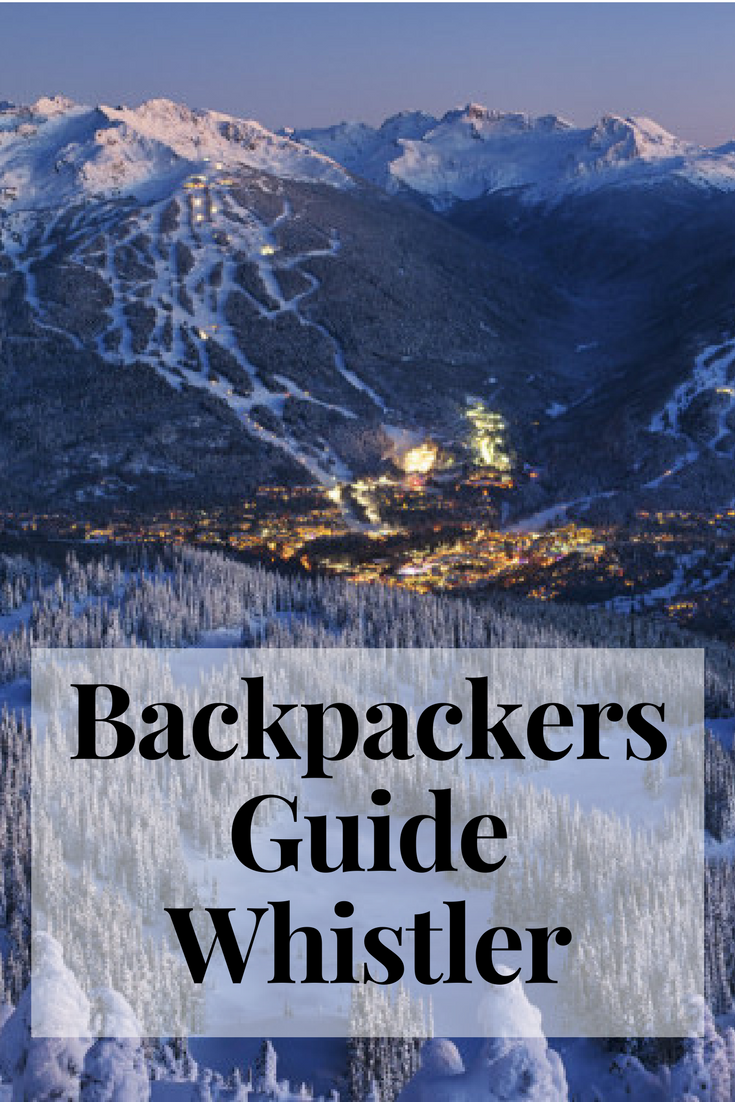 See more from Canada here.