The village of Whistler is well known amongst Australians for its mountains, winter sports and party scene, and I can guarantee that it will not disappoint. Whistler is located 1.5 hours out of Vancouver, in British Colombia. I absolutely recommend spending a few days in Whistler on your way out to the Rocky Mountains, or a season if you are moving to Canada. Most backpackers that come to Whistler for a season are still there 3 years on. After all, it is all about the lifestyle in Whistler with priorities being "first chair, last call". Tough life.
Things do in Whistler
Explore Whistler Village
The village is renowned for the 2010 Winter Olympics. Get a photo of the ring, check out the Olympic sites and enjoy lunch and a beer at one of the many bars. You will find plenty of shopping opportunities in Whistler.
Whistler Bungee
For those adrenaline seekers, try the Whistler Bungee Jump. Both the speed, adrenaline and incredible views will take your breath away! If you stay at HI-Whistler you get $10 off.
Zip Line through the Tree Tops
Ziptrek Eco Tours has a zip lining course that goes back and forth from Whistler Mountain to Blackcomb, including one that descends 30 stories and another that is 2400 feet long. Along with the thrills, you learn a lot about the coastal rainforest that you're exploring.
Relax at Scandinave Spa
This is one of the most beautiful spas in Whistler. If the spa treatments fit into your backpacking budget, this is the place you should go.
Things to do in Whistler in Summer
Visit the lakes
There are three lakes within walking distance of the Village: Green, Lost Lake and Alta Lake. You can also kayak at Alta Lake.
Hiking in Whistler
Whistler is home to ample hiking trails, all ranging in difficulty and length. You can choose to hike to an alpine lake or to the top of a mountain. Two locals favourites are The Whistler Train Wreck and Loggers Lake.
The Whistler Train Wreck: This hike is located near function junction, with the trail starting behind Olives Supermarket. The scenic trail is about 2km long winding along the waterfront and railway. Eventually, you will find a train wreck that is very popular among the locals. If you are looking for free things to do in Whistler, this is a great place to start.
Loggers Lake: The trail starts in Cheakamus near the HI Hostel. This hike you will take you through the forest, along a river and past a suspension bridge before leading to the lake. This is a 3-hour return trip hike. If you want you can continue up Crater Rim, which adds an additional three hours.
Go Mountain Biking
During summer, Whistler is a world class Mountain biking destination. This will certainly get your adrenaline pumping as you speed down the side of the mountain on a bike.
Ride the Peak2Peak Gondola
For some of the best views in Whistler, without the strenuous hike, you can ride to peak to peak gondola. From the top of Whistler Peak, you can Walk the Cloudraker Skybridge and Raven's Eye Cliff Walk.
Visit the Farmers Market
It happens at the base of Blackcomb Mountain every Sunday between June and October. The market also opens on Wednesday afternoons in July and August.
Enjoy the wildlife
Whistler is home to lots of wildlife, including grizzly and black bears. Chances of spotting these creatures are high, so keep your eyes peeled.
White Water Rafting
Get your adrenaline going as you ride down the lively Green, Lower Cheakamus, Elaho and Squamish Rivers. You can choose a relaxing or an adventure packed ride. Tours include transportation to and from Whistler, wetsuit, gear, professional guide and lunch on full day tours.
Golfing
For any golfers out there, good news, Whistler is home to a course. Just try not to get too distracted by the beautiful views.
ATV Tours
This is one of my favourite things to do in Whistler. It won't come cheap, but it will be worth it as you ride through the mountains of Whistler.
See more summer activities in Whistler.
Things do in Whistler in Winter
Whistler is a winter lovers paradise. These are the best things to do in Whistler in winter.
Snowboard or Ski on Blackcomb Mountain
With over 8,100 acres of snow-covered slopes, 16 alpine bowls, 3 glaciers, world-class terrain parks and half pipes and 200+ marked trails for all ability levels, Whistler Blackcomb is the ultimate place to go skiing or snowboarding.
Snowmobiling

Snowmobiling is my all time favourite activity, and there is no better place to try it out than in Whistler. It may not be the most budget-friendly activity for backpackers in Whistler, but it will be one that creates memories to last a lifetime.
Go Heli-Skiing (or take a helicopter ride)
For experienced skiers and snowboarders, Whistler offers the chance to get off the mountain and into the backcountry. Although this isn't the most affordable activity for backpackers in Whistler, the fresh powder tracks will totally be worth it. And if you aren't an experienced rider, you can always opt for a helicopter ride over the mountain tops.
Snowshoeing
Snowshoeing is a great way to explore the hiking trails in Whistler, despite the snow. You simply put the snowshoes over your regular shoes and you will be able to walk across the snow with ease.
Cross-country skiing
Another way to explore the trails in winter is by cross-country skiing.
Dog Sledding

Can you think of anything better than being pulled through the fresh snow by adorable huskies?
Bobsledding at the Whistler Sliding Centre
Whistler is home to the Bob Sledding track that was used in the inter Olympics. This is a unique thing to do in Whistler, so try it out, if you dare.
Climate in Whistler
Summer: June – August, however, it is warm up until late September.
Winter: December – February
Summer and winter are both great in Whistler. If you want to go hiking, visit in Summer and if you want to ski, visit in winter.
Recommended trip length
I recommend staying in Whistler for 3-5 days, depending on how much time you have.
Getting to and around Whistler
Vancouver Airport is the closest International Airport. If flying in from overseas land in Vancouver and take the Greyhound bus to Whistler.
You can get to Whistler from any location in Canada via Greyhound.
Once in Whistler, you can use the local bus service, BC Transit. The cost of the bus is $2.50 and will get you to any location in Whistler that you need to go to. Check out the routes and schedule here…
A hire car will allow you to get around quicker but is unnecessary as the public transport is reliable and some parts of town make you pay for parking.
Backpackers in Whistler
Southside Lodge: This hostel is located just across the road from the Creekside Gondola, making it a great place to stay in Whistler during winter because you can easily access the chairlift.
HI Hostel: The HI in Whistler is a nice new hostel located near Function Junction, outside the village. The hostel is a brand new hostel with beautiful rooms and great facilities, such as the kitchen. There is a bus stop located out the front of the hostel that departs every 30 minutes. HI-Whistler is within walking distance to the popular Train Wreck site and other hikes including Loggers Lake and Crater Rim. The HI hostel is in a better location for Summer activities.
Search for cheap accommodation options for backpackers in Whistler here.
Budget for Whistler
Accommodation
$ – Expect to pay around $40 CAD for a bed in a hostel dorm room.
$$ – Expect to pay around $150 + CAD for mid-range hotel room.
$$$ – Expect to pay $500 CAD for a luxury hotel room.
Transport
Car hire starts from $25CAD per day in Whistler. This excludes insurance. The local bus costs $2.50 for 1 ride.
Food
You could survive on $15 per day for food if you book a backpackers in Whistler that includes breakfast and cook your own meals. A meal in a restaurant will generally cost $10+ – more for drinks.
Cheap eats in Whistler
The Warehouse in Whistler Village has $4.95 meals all day and night.
Tipping in Whistler
Tipping is customary in Whistler. See my guide to tipping in Canada.
Currency in Whistler
The currency used in Whistler is CAD – Canadian Dollars. Some businesses also accept USD.
Travel Insurance for Whistler
I recommend getting travel insurance before your trip to Whistler. If you do plan to ski or snowboard, make sure your insurance policy covers you for this. I recommend World Nomads.
If you are still unsure if you should buy travel insurance or not, read this.
Safety in Whistler
Although Whistler is a relatively safe town, it is recommended that you exercise all usual safety precautions. These are my tips for keeping safe.
Before setting off on a hiking or outdoor adventure in Whistler, be sure to check the weather forecast and be aware of wildlife in the area. Bears are known to the area and it is recommended to carry bear spray on certain hikes. Always tell someone where you are going and carry a means of communication.
Vaccination for Whistler
Check the Travel Doctor website to find out if you need any vaccinations for your backpacking trip to Vancouver.
Overseas Travel Checklist
Book a tour in Whistler
Other tips for Backpacking Whistler
Pin – Backpackers Guide to Whistler – Canada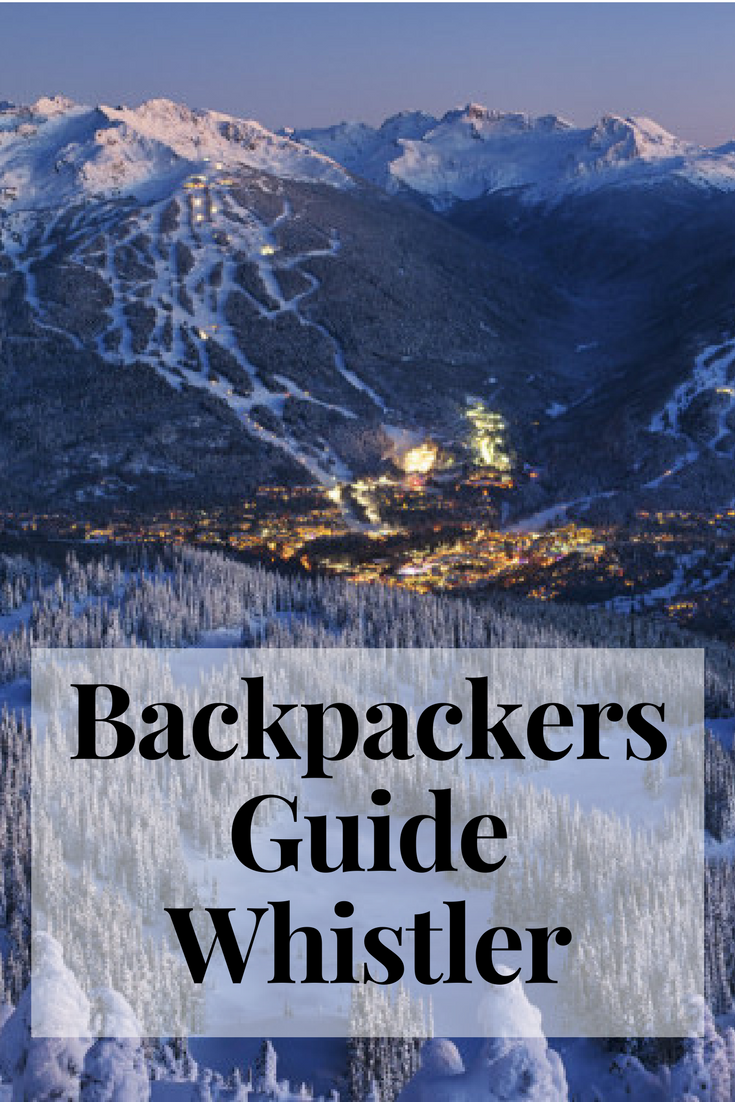 See more from Canada here.
Disclosure: This backpackers guide to Whistler contains affiliate links.